Takegawa Grab Bar Installation
Installation Difficulty: Easy to Install
Tools Needed: Open End Metric Wrenches, Your hands, razor blade to open the box
The installation of the grab bar is very easy with minimal tools, and time. What the grab bar brings to your bike is a place for people to grab on, a place to tie off too and if you need to wrestle the bike around it makes life much easier.
It will take about 20 minutes to install and that's if you take your time.
Your choice of black or Chrome, the quality is very good, the packaging from Takegawa is good as usual with no issues with shipping damage or issues.
As you will see in the images below it shows how the bar is attached behind the upper shock mount. Make sure to follow the instructions on washer placement. If you are running aftermarket YSS style shocks this bar should attach with no issues.
Manufacturer Info Below:
Takegawa Grab Bar – Website Link
object vehicle excellent in stable holding and dress-up effect when moving vehicle
: Monkey 125 (JB02-1000001-)
: Monkey 125 (Thai model / MLHJB02)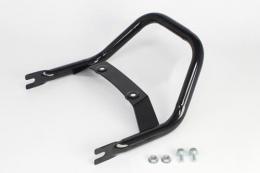 Item code: 09-11-0220
Grab bar (black paint) Also comes in Chrome
Sales price 
(including tax)
 : 
10,260 yen
Simultaneous mounting with a normal seat
Grab bars with sufficient rigidity and ease of gripping by using Φ22.2 steel pipe.
It is most suitable for stable holding when moving the vehicle by installing this product.
In addition, combined with beautiful pipe bending and surface treatment, it can be used as a dress-up part besides functionality.
Dressing effect can be further enhanced by attaching our tack roll sheet (under development) and genuine sheet at the same time.
Surface treatment is black paint
This product can be installed simultaneously with genuine sheet and our tack roll sheet (during development)