The History of the Mini Bike:
The Doodle Bug scooter was a very compact, small-wheeled motorscooter built from 1946-'48 in Webster City, Iowa by the Beam Manufacturing Company. Sold by the Gambles store chain, a total of 40,000 of these were built—a small number with single-cylinder Clinton engines, and most with 1.5 hp Briggs & Stratton air-cooled, single-cylinder engines. They were marketed under the "Hiawatha" brand name. Complete Doodle Bugs were to be found here and there for decades thereafter and, as well, their frames and other parts were not uncommon.
However in the 1950s, like go-karts, minibikes were made by enthusiasts from spare parts found in their garages. These were first popularly used as "pit bikes", for drag racers to travel in the pits during races in the late 1950s. They were very useful for this purpose, as they could maneuver very well in the tight pit roads, fit in about the same space as a small bicycle in a trailer or pickup. As racers brought them home and used them around their neighborhoods, many children liked the idea of having a mini motorcycle and started building their own. The June 1967 Popular Mechanics magazine had an article with plans. All you needed was an engine from a lawnmower and a neighbor with a welding torch.
Commercial manufacture
A market for minibikes developed, and from the early 1960s many cottage and major industries developed to meet the demand. Most lawnmower shops began carrying a line of mini-bikes. Minibike companies include Arctic-Cat, Rupp, Taco, Heath, Gilson, and Fox, many of which also made other power toys such as go-karts, trikes and choppers. Traditional motorcycle manufacturers also began coming out with models like the Honda Z50A, inspired by aspects of minibikes. In America the peak of the minibike/go-kart era was from the late 1960s to the early 1970s. Many of the brands, foremost Rupp, have gained a cult-following of enthusiasts and owners.
Early minibike power train
These early minibikes usually had a power train with a small four-stroke, horizontal crankshaft, flathead engine. The transmission usually was of a crank-mounted centrifugal clutch and chain drive to a rear sprocket. As the minibike and the mini-powersports field grew, Comet introduced a continuously variable transmission, much like a snowmobile's, called the Torque-a-Verter, which automatically adjusts gear ratios, resulting in better top speed and acceleration.
Types
Today minibikes have evolved into several specialized types.
Pocketbike/minimoto These look like sport bikes and are used in pocketbike racing on kart racing tracks. The usual height is less than 50 cm (20 in), and up to 1 m (3 ft 3 in) length. Power usually comes from a 39–50 cc (2.4–3.1 cu in) two-stroke engine with a maximum of 4.5–6 horsepower (3.4–4.5 kW). Maximum speed varies between 30 to 64 km/h (19 to 40 mph). Pocketbikes are also made in both four-stroke gasoline and electric versions. The four-stroke models are usually 110cc automatic or manual engines, and are referred to as Super Pocket Bikes. Common Super Pocket Bike models include the X7, X15, X18, X19, and X22. The popularity of these types of minibikes grew due to the influx of cheap pocket bikes imported from China.
Pitbikes Pit bikes are true to the original concept of a small scooter used to quickly move around the pit areas of motor racing tracks and events. Modern versions look like motocross motorcycles and are also used in some motocross competitions. Recently the sport of pitbike racing (racing pit bikes on motocross and supercross tracks) has taken off. There are numerous series in the United States and there are also full-fledged pitbike pros. The Las Vegas Mini Supercross is the biggest pitbike event of the year.
The sport of mini-motard consists of pitbikes racing with slick tires on go-cart tracks, much like super-motard or super-moto. The bikes are prepared for racing with precautions such as catch tanks to collect fluid spills on the track, causing skidding hazards.
Mini choppers Mini choppers are mini bikes that look like choppers, but still have the general look of a pocket or mini bike.
Midi motos / Super pocket bikes Midi motos, also called super pocket bikes, are similar to pocket bikes, but slightly larger. They are still smaller than the street bikes they mimic, but the seat height is about a foot to two feet higher than a mini moto's seat height. They started off with 47cc 2 stroke engines (capable of around 48–64 km/h/30-40 mph) in the midi motos and then included 110cc 4 stroke engines (capable of around 86–105 km/h/55-65 mph). Most midi bikes are made in China and usually equipped with a Honda engine or copy of a Honda engine.
Monkey Bikes A little bigger than the Pocket Bikes and the real mini bikes for the streets, can have a 4 stroke engine between 50cc and 125cc.

Honda breaks the mold and makes History: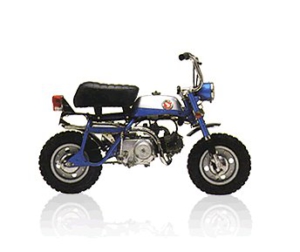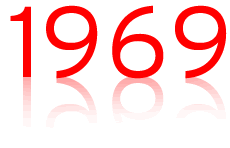 The Honda Z50A was the second generation of Honda's Z50 Series of minibikes. Though its predecessor, the Z50M, was available in Europe and Japan a few years previously, in 1968, the Z50A-KO "Hard Tail", sometimes referred to as the "High Bar" or the "Slantguard", was the first of the Z50 series to be released to the American market. Upon its release, this bike was considered to be a significant leap in technology in comparison to other minibikes on the market at the time. This was partly because of its efficient 49 cc (3.0 cu in) four-stroke overhead cam engine with semiautomatic transmission. Street-legal lighting and lowered bars were added on the 1969/70 K1 "Short Tail", the 1970/71 K2 "Long Tail", and in 1972, after frame cracking became a growing issue, Honda incorporated rear suspension on the bike. The Z50A "Soft Tail" remained on the American market until 1978, when it was replaced by the Z50R. In Europe and Japan, the Z50A was renamed the Z50J in 1973, and remained on the market until 1999. The Z50JP is still available in Japan and through exporters in the United Kingdom.
Memories of the Z50RT MiniTrail have spanned generations. Its bold off-road looks and 49cc engine gave confidence and freedom to everyone lucky enough to have one in their garage. Now, "first-bike" nostalgia for these indestructible machines is fueling a huge comeback, with some people's collections exceeding double digits. In fact, Jeff Stanton, six-time AMA 250 Champion, has more than 20.
The Z50R's portability made it a great bike to throw in the car or RV for any weekend trip. Their popularity is still evident at motocross events across the country, where you can find vintage Z50Rs transporting riders back and forth in the pits.
The Z50R has truly stood the test of time. With first-year sales of over 70,000, and total sales through 1997 of more than a half million, it will live on as one of Honda's best-selling models. The popularity of the original Z50R engine even helped springboard the launch of the XRT75R, which was first made available in 1976.
Combine the sheer sales volume of these bikes with their rugged and uncommonly durable nature, and you can see why owning an all-original Honda MiniTrail is as easy in 1999 as it was in 1969. Buyers and sellers are flocking to specialty dealers and online auction sites to find the older models.
1998 marked the Z50R's thirtieth birthday and 1999 its final year of production. This month's featured model, the new XR50R, has since taken its spot in the line-up. The XR50R is remarkably true to its predecessor and will undoubtedly win the support of a whole new generation of riders being introduced to the sport.
Honda Z series
The Honda Z series was a line of minibikes manufactured by Honda Motorcycles. Though Honda's official model designations are typically Z50A, Z50J, Z50M, Z50R, and ZB50, they are more commonly referred to as the "Monkey" or "Gorilla" because of the way people are said to look when riding one of such bikes. Sales of the bike began in March 1964 with the Z50M model, and production ended in 2017.
Design
Most Z-series bikes are small, light, collapsible motorcycles made for convenience and ease of transportation. Their outstanding feature is a 50 cc (3.1 cu in) four-stroke engine with an overhead cam. Some have a centrifugal clutch and a three-gear manual transmission, while others have conventional manual clutch and a three- or four-speed gearbox.
The original model of the Honda Z-series was originally produced as a children's ride at a Japanese amusement park, but was eventually refined and put into mass production, hitting the European market in 1967.
Since then, Honda has produced a wide variety of Honda Z-series minibikes, with annual model updates still in effect. Starting from 2008, the well-known 50-cc engine will be adapted and fitted with an injection kit instead of carburetor. Today, cheaper replica versions of this bike are being manufactured in China.
Monkey bike is the name given by Honda to one of their small, low-powered motorcycles introduced in the 1960s. The first Honda Monkey was the 1961 Z100.[1] Later Monkeys were designated Z50, such as the Z50A(US), J, M, R(US) and Z.[2]
These vehicles all had a 4.5-horsepower (3.4 kW), 49-cubic-centimetre (3.0 cu in), single horizontal cylinder, four-stroke engine, and a seat height less than 22 in (560 mm). The first Monkey bikes did not have any suspension, but the front forks were soon added. By 1974, when the Z50J was introduced (US 1972 Z50AK3), suspension had been added to the rear, as well. The first Monkey bikes had 3.5-by-5-inch (89 mm × 127 mm) wheels, but later models had 3.5-by-8-inch (89 mm × 203 mm) wheels.
The early Z series Mini Trails are still highly popular, decades after the end of production, often selling for several times their original price. Refurbishment and upgrade parts are available from a variety of sources and vendors.
The low power of the 49cc engine used in the Mini Trail and Super Cub has resulted in numerous upgrade possibilities, including replacement with larger and newer Honda horizontal engines.
End of Production
In March of 2017, Honda Motorcycle president Chiaki Kato announced that the Z50 series would be discontinued in August 2017. Kato stated that this was due to new and pending emission-control regulations in Japan, which would be very difficult for small-displacement engines to meet. The model would be retired with the release of a limited-run 50th Anniversary Special Edition, which was only available to Japanese consumers. An online lottery, open from July 21 to August 21, was used to select buyers of the 500 units, which sold for ¥432,000 (about $3,900) including consumption tax. This final model of the Z50 mixed the iconic design features from the Z50A (1968) and Z50AK3 (1972), with a plaid-covered seat duplicating the original Z50M; in addition, most parts were chrome plated.
Similar and Derivative Designs
Numerous similar small motorcycles antedate the Honda model, notably the World War II Welbike motorcycle used by parachutists, and limited numbers of minibikes (powered by repurposed lawnmower and chainsaw engines) were produced in the 1950s and 1960s. However, this type of design did not become commonplace or popular until the introduction of the mass-produced Z series.
The Honda Dax model (the ST series in the North American market) is generally not considered a Monkey, but rather a bigger, two-seat variant, with larger 10-inch (250 mm) wheels and usually a larger engine. The Dax models have a monocoquestamped sheet-metal frame, similar to some other early Honda motorcycles. This also houses the fuel tank, battery, and wiring loom.
While Honda has ended production, there are several similar trail bikes being produced in China; some are parts-compatible with original Hondas.
In 2018, Honda introduced the Honda Monkey (as the 2019 model year). While actually based on the Honda Grom, the model name, styling and paint scheme are directly inspired by the early Z series.
The Release of the 2019 Honda Monkey – Retro Reborn!

FEATURES
Performance
125cc Fuel-Injected Engine
Nobody can match Honda's reputation for engines, and even though the Monkey may be compact, this single-overhead-cam design is a giant in terms of performance and reliability.
Hydraulic Disc Brakes
The Monkey features 220mm front and 190mm rear single disc brakes for excellent stopping power.
Fuel Capacity
Who says being on a budget can't be fun? With its 1.5-gallon fuel tank and awesome fuel efficiency, the Monkey may be small, but it lets you ride far on every fill-up.
Easy to Park
Because of the Monkey's miniature stature, it's easy to park in the city, and to store when you're not riding. There's always room for a Monkey!
Technology
Four-Speed Transmission
Sure, the Monkey is cute, but its four-speed transmission gives you all the durability, control and efficiency of a conventional motorcycle.
LED Taillight
Forget about big, bulky taillights—the Monkey's LED lamp is bright and clear—plus, it's round like a coconut!
Handling
Available ABS
Our Anti-Lock Braking System (on the Monkey ABS model) can be a big help in making controlled stops in less-than-ideal conditions, like on wet pavement or other compromised surfaces. It's a great choice whether you're using your new bike as a commuter or just riding it for fun, since it helps you stop with added confidence.
12-inch Wheels
Tough and strong, these cast wheels and wide tires are just what the urban rider needs.
Twin Rear Shocks
The new Monkey 125 has twin rear shocks. Combined with the fat tires and cushy seat, they smooth out the roughest pavement in the urban jungle.
Inverted Fork Suspension
Here's a huge improvement over the original Monkey bike: Like a top-of-the-line sportbike, the new 2019 Monkey features an inverted hydraulic fork front suspension for control and road feel.
Style
High-Rise Handlebar
Sure, the Monkey may be small, but we sized it to fit adult riders. Case in point—check out the high-rise handlebar, so you can sit up and check out the world as you ride.
Round Chromed LED Headlight
The Monkey's round headlight looks retro, but its performance is totally up to date and provides superior illumination and visibility.
Multi-Function Digital Instruments
Retro meets modern in the Monkey's instrument cluster. The round housing is totally 1960s, while the display features speedometer, odometer, tachometer, A&B trip meters, fuel gauge, and indicator for low/high beam. It even greets you when you first start the bike!
Chunky Tires
The Monkey's high-aspect-ratio tires do more than just look cool. They're extraordinarily practical too, giving you tons of grip and absorbing bumps or rough road surfaces.
Low Seat Height
At just 30.6 inches, the Monkey's super-low seat makes it easy to flat-foot it in parking lots or at stop lights.