Installation – Opinions and Product Review: – Info Coming Soon
Original System Weight:
New System Weight:
Time to Install:
Cost:
Install Difficulty:
Build Quality:
Stock OEM Exhaust Removal Photos
Manufacturer Description from their Website:
Manufacturer Description from their website:
The target vehicle for "Sports Muffler", which can be fitted with a normal heat protector and a muffler end and enhances exhaust efficiency without breaking the normal style
: Monkey 125 (JB02-1000001)
Product Code: 04-02-0295
Sports Muffler (Normal Look Style) (Government certified)
Sales price (tax included) : 35,640 yen
It is a sports specification up muffler that does not break the normal style at all which enabled the installation of the normal heat protector and the muffler end.  Our unique silencer structure and exhaust pipe enable high exhaust efficiency that is completely different from normal, improving output performance.  Also, the sound quality is different and enhances the custom image of the vehicle.  Exhaust pipe, silencer both steel heat resistant black paint finish.  The two-piece structure is vibration-friendly, and the joint uses a gasket like normal to reduce exhaust leakage and vibration noise.  As well as the silencer stay section, rubber mount.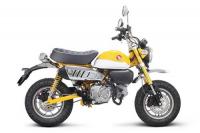 Government-certified muffler Because it has received a certification test and obtained government certification, you can enjoy muffler replacement with confidence.
Close exhaust noise: 82 dB (A)