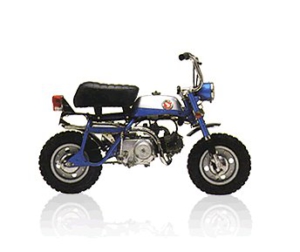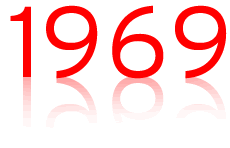 Memories of the Z50RT MiniTrail have spanned generations. Its bold off-road looks and 49cc engine gave confidence and freedom to everyone lucky enough to have one in their garage. Now, "first-bike" nostalgia for these indestructible machines is fueling a huge comeback, with some people's collections exceeding double digits. In fact, Jeff Stanton, six-time AMA 250 Champion, has more than 20.
The Z50R's portability made it a great bike to throw in the car or RV for any weekend trip. Their popularity is still evident at motocross events across the country, where you can find vintage Z50Rs transporting riders back and forth in the pits.
The Z50R has truly stood the test of time. With first-year sales of over 70,000, and total sales through 1997 of more than a half million, it will live on as one of Honda's best-selling models. The popularity of the original Z50R engine even helped springboard the launch of the XRT75R, which was first made available in 1976.
Combine the sheer sales volume of these bikes with their rugged and uncommonly durable nature, and you can see why owning an all-original Honda MiniTrail is as easy in 1999 as it was in 1969. Buyers and sellers are flocking to specialty dealers and online auction sites to find the older models.
1998 marked the Z50R's thirtieth birthday and 1999 its final year of production. This month's featured model, the new XR50R, has since taken its spot in the line-up. The XR50R is remarkably true to its predecessor and will undoubtedly win the support of a whole new generation of riders being introduced to the sport.
2019 – Honda Monkey

FEATURES
Performance
125cc Fuel-Injected Engine
Nobody can match Honda's reputation for engines, and even though the Monkey may be compact, this single-overhead-cam design is a giant in terms of performance and reliability.
Hydraulic Disc Brakes
The Monkey features 220mm front and 190mm rear single disc brakes for excellent stopping power.
Fuel Capacity
Who says being on a budget can't be fun? With its 1.5-gallon fuel tank and awesome fuel efficiency, the Monkey may be small, but it lets you ride far on every fill-up.
Easy to Park
Because of the Monkey's miniature stature, it's easy to park in the city, and to store when you're not riding. There's always room for a Monkey!
Technology
Four-Speed Transmission
Sure, the Monkey is cute, but its four-speed transmission gives you all the durability, control and efficiency of a conventional motorcycle.
LED Taillight
Forget about big, bulky taillights—the Monkey's LED lamp is bright and clear—plus, it's round like a coconut!
Handling
Available ABS
Our Anti-Lock Braking System (on the Monkey ABS model) can be a big help in making controlled stops in less-than-ideal conditions, like on wet pavement or other compromised surfaces. It's a great choice whether you're using your new bike as a commuter or just riding it for fun, since it helps you stop with added confidence.
12-inch Wheels
Tough and strong, these cast wheels and wide tires are just what the urban rider needs.
Twin Rear Shocks
The new Monkey 125 has twin rear shocks. Combined with the fat tires and cushy seat, they smooth out the roughest pavement in the urban jungle.
Inverted Fork Suspension
Here's a huge improvement over the original Monkey bike: Like a top-of-the-line sportbike, the new 2019 Monkey features an inverted hydraulic fork front suspension for control and road feel.
Style
High-Rise Handlebar
Sure, the Monkey may be small, but we sized it to fit adult riders. Case in point—check out the high-rise handlebar, so you can sit up and check out the world as you ride.
Round Chromed LED Headlight
The Monkey's round headlight looks retro, but its performance is totally up to date and provides superior illumination and visibility.
Multi-Function Digital Instruments
Retro meets modern in the Monkey's instrument cluster. The round housing is totally 1960s, while the display features speedometer, odometer, tachometer, A&B trip meters, fuel gauge, and indicator for low/high beam. It even greets you when you first start the bike!
Chunky Tires
The Monkey's high-aspect-ratio tires do more than just look cool. They're extraordinarily practical too, giving you tons of grip and absorbing bumps or rough road surfaces.
Low Seat Height
At just 30.6 inches, the Monkey's super-low seat makes it easy to flat-foot it in parking lots or at stop lights.